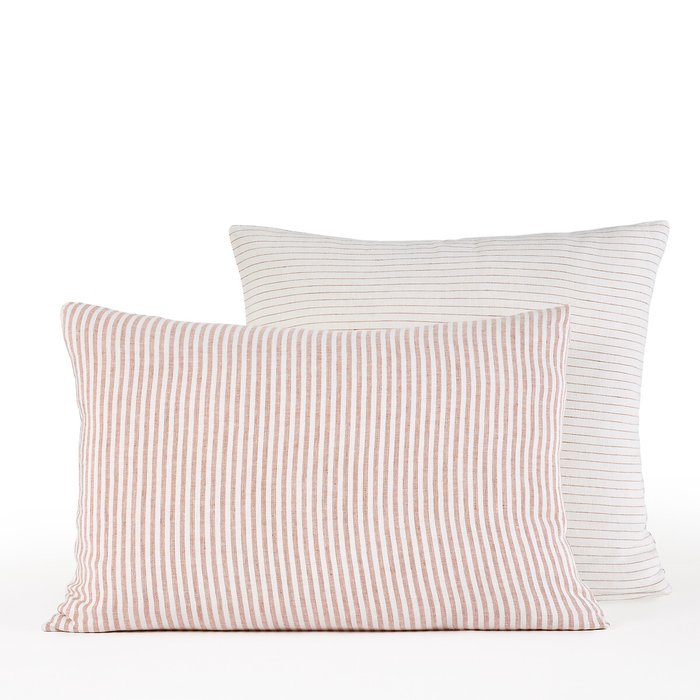 AM.PM
Deutzia Striped Dyed Woven 100% Washed Linen Pillowcase


Off White/Cinnamon
Customers also bought
Deutzia Striped Reversible 100% Linen Duvet Cover
Off White/Cinnamon
See Availability Information
Product Description
Deutzia Striped Dyed Woven 100% Washed Linen Pillowcase, off white/cinnamon, AM.PM
Reversible, Deutzia bed linen has a set of micro-stripes on one side and larger stripes on the other side. Made from dyed woven linen, Deutzia offers real comfort.
The patterns go perfectly with Ilona bed linen and our Elina range of washed linen. Made in Portugal .

Linen, a classic fabric that has been used for thousands of years, is celebrated in the weave and design of this bedding. We love the elegant crumpled effect of this refined fibre and its on-trend colours. Linen is a particularly soft material, cool in summer and warm in winter, which makes it more beautiful wash after wash..

Product Details
 •  100% linen
 •  Washed linen
 •  Yarn-dyed and striped

Care Advice
Follow our care tips to maintain the quality of your laundry
 •  Machine washable at 40°C
 •  Tumble dry at medium temperature
 •  Iron at average temperature
 •  Do not dry clean

Origin of the product and manufacturing steps
 •  Linen fibre: Western Europe (France, Belgium or the Netherlands)
 •  Spinning: Europe

Sizes
 •  65 x 65cm: Square
 •  50 x 70cm: Rectangular



 •  Made in Europe.

 •  Fibre grown in Europe. Linen is a fibre requiring little irrigation and limited use of pesticides. This linen fibre is of European origin.

 •  OEKO-TEX® Standard 100. Standard 100 certification by OEKO-TEX® tests textile products for harmful substances via an independent, international label.



Colours
Off White/Cinnamon
Sizes
STANDARD (50X70CM), SQUARE (65X65CM)
_____________