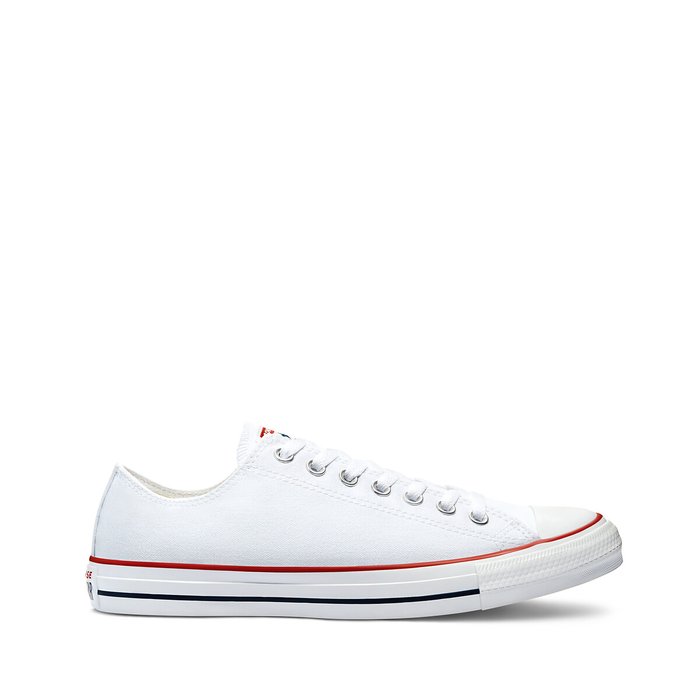 CONVERSE
Chuck Taylor All Star Core Canvas Ox Trainers

_____________
Product Description
Chuck Taylor All Star Core Canvas Ox Trainers, white, CONVERSE
Product details
 •  Sports shoe
 •  Flat heel
 •  Heel height: 1cm/0.5"
 •  Fastening: lace-up
 •  Smooth finish

Fabric content and care advice
 •  Uppers: 100% canvas
 •  Lining: 100% textile
 •  Cushioning: 100% textile
 •  Sole: 100% rubber

Colours
White
Sizes
36 (3.5), 36.5 (3.5 to 4), 37 (4), 37.5 (4.5), 38 (5), 39 (5.5 to 6), 39.5 (6), 40 (6.5), 41 (7), 41.5 (7.5), 42 (8), 42.5 (8.5), 43 (9), 44 (9.5), 45 (10 to 10.5), 46 (11), 46.5 (11.5)
Converse Unisex & Mens Footwear

Due to Converse French to UK size conversions, please check one of the following size guides listed below: Chuck Taylor All Stars or Converse standard. Please check the correct size guide before ordering Converse shoes, in order to receive your correct size.

To measure your shoe size please follow these instructions:
Place a piece of paper on the floor with one end against a wall.
Stand on the piece of paper with your heel against the wall.
Mark the piece of paper where the longest toe ends with a pencil.
Measure from the end of the piece of paper to the mark you created with your pencil
and compare the measurement on the size chart.
Chuck Taylor All Star Sizes

| UK Size | EU Size | Size to Order | Foot Length |
| --- | --- | --- | --- |
| 3 | 35 | 35 (2.5 to 3) | 21.5cm |
| 3.5 | 36 | 36 (3.5) | 21.9cm |
| 4 | 36.5 | 36.5 (3.5 to 4) | 22.4cm |
| 4.5 | 37 | 37 (4) | 22.8cm |
| 5 | 37.5 | 37.5 (4.5) | 23.2cm |
| 5.5 | 38 | 38 (5) | 23.6cm |
| 6 | 39 | 39 (5.5 to 6) | 24.1cm |
| 6.5 | 39.5 | 39.5 (6) | 24.5cm |
| 7 | 40 | 40 (6.5) | 24.9cm |
| 7.5 | 41 | 41 (7) | 25.3cm |
| 8 | 41.5 | 41.5 (7.5) | 25.8cm |
| 8.5 | 42 | 42 (8) | 26.2cm |
| 9 | 42.5 | 42.5 (8.5) | 26.6cm |
| 9.5 | 43 | 43 (9) | 27cm |
| 10 | 44 | 44 (9.5) | 27.4cm |
| 10.5 | 44.5 | N/A | 27.9cm |
| 11 | 45 | 45 (10 to 10.5) | 28.3cm |
Converse Standard Shoe Sizes

| UK Size | EU Size | Size to Order | Foot Length (cm) |
| --- | --- | --- | --- |
| 5.5 | 39 | 39 (5.5 to 6) | 24.1 |
| 6 | 40 | 40 (6.5) | 24.5 |
| 6.5 | 40.5 | n/a | 24.9 |
| 7 | 41 | 41 (7) | 25.3 |
| 7.5 | 42 | 42 (8) | 25.8 |
| 8 | 42.5 | 42.5 (8.5) | 26.2 |
| 8.5 | 43 | 43 (9) | 26.6 |
| 9 | 44 | 44 (9.5) | 27 |
| 9.5 | 44.5 | n/a | 27.4 |
| 10 | 45 | 45 (10 to 10.5) | 27.9 |
| 10.5 | 46 | n/a | 28.3 |