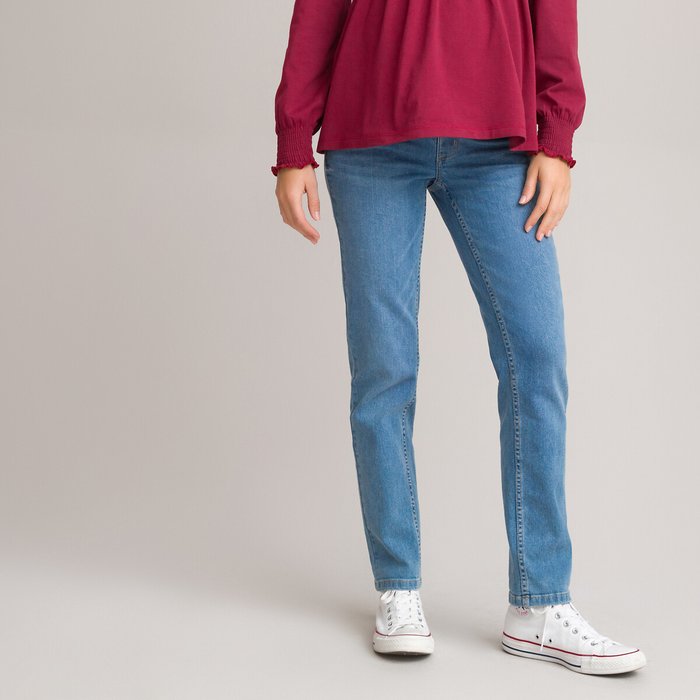 LA REDOUTE COLLECTIONS
Maternity Boyfriend Jeans in Organic Cotton and Mid Rise

Double stonewashed
+

1

COLOUR:
Product Description
Maternity Boyfriend Jeans in Organic Cotton and Mid Rise - LA REDOUTE COLLECTIONS
Product details
 •  Boyfriend fit
 •  Mid rise
 •  Side pockets
 •  This garment is suitable for pregnancy
 •  Responsible Product
 •  Choosing cotton from organic farming means consuming responsibly. Why? Because it does not include any chemicals, pesticides, insecticides or GMOs. The result: a product created with minimal impact on biodiversity and the health of agricultural workers.
 •  Choosing a product that has been sustainably washed is all about responsible consumption. Sustainable washing significantly reduces water consumption compared to conventional washing techniques. Less impact on the planet for more responsible fashion.

Fabric content and care advice
 •  99% organic cotton, 1% elastane
 •  Machine washable at 30°C on a delicate cycle
 •  Iron at a medium temperature 
 •  Do not bleach
 •  Do not tumble dry
 •  Do not dry clean

Colours
Double stonewashed, Brushed Black
Sizes
8, 10, 12, 14, 16, 18
Womens Trousers & Jeans

To take your measurements, use a tape measure, then refer to the table below to know your size.
1. Waist: just under the chest.
2. Hips: at the widest point.
| UK Size | S/M/L | Waist Size | Waist [cm] | Hips [cm] |
| --- | --- | --- | --- | --- |
| 2 | XS | | 52-56 | 78-82 |
| 4 | XS | | 56-60 | 82-86 |
| 6 | S | W24 | 60-64 | 86-90 |
| 6/8 | S | W25 | 60-64 | 86-90 |
| 8 | S | W26 | 64-68 | 90-94 |
| 8/10 | S/M | W27 | 64-68 | 90-94 |
| 10 | M | W28 | 68-72 | 94-98 |
| 10/12 | M | W29 | 68-72 | 94-98 |
| 12 | M | W30 | 72-76 | 98-102 |
| 12/14 | M/L | W31 | 72-76 | 98-102 |
| 14 | L | W32 | 76-80 | 102-106 |
| 14/16 | L | W33 | 76-80 | 102-106 |
| 16 | L | W34 | 80-84 | 106-110 |
| 16/18 | L/XL | W35 | 80-84 | 106-110 |
| 18 | XL | W36 | 84-88 | 110-114 |
| 18/20 | XL | W37 | 84-88 | 110-114 |
| 20 | XL | W38 | 88-92 | 114-118 |
| 20/22 | XL/XXL | W39 | 88-92 | 114-118 |
| 22 | XXL | W40 | 92-100 | 118-124 |
| 22/24 | XXL | W41 | 92-100 | 118-124 |
| 24 | XXL | W42 | 100-106 | 124-130 |
| 26 | | | 106-112 | 130-136 |
| 28 | | | 112-118 | 136-142 |
| 30 | | | 118-124 | 142-148 |
| 32 | | | 124-130 | 148-154 |
| 34 | | | 130-136 | 154-160 |
| 36 | | | 136-142 | 160-166 |